Shakespeare in Love (1998)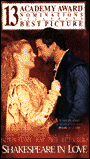 Rated: R
Director: John Madden
Starring: Paltrow, Fiennes
Genre: Comedy, Romance


A young Shakespeare, out of ideas and short of cash, meets his ideal woman and is inspired to write one of his most famous plays.
Details:


Get more details at the Internet Movie Database
Search for Shakespeare in Love on Amazon Advanced Search
* Based on the least expensive way available to ship domestically. Check the merchant site for other shipping opportunities. Note: Merchants tend to change shipping rates frequently, please check the merchant's site to confirm the rates listed here before you order.

---
---
Home | About DVD ESP
All Content Copyright © 1999-2005 Greg Gardner (greg <at> bah.org)